A large hard drive on Mac is always a boon because one can store plenty of files and create 'n' numbers of folders to manage saved files. But, this boon soon becomes a curse when locating some of the files and folders becomes almost impossible. The Mac's own Finder application looks insufficient to locate and remove files that are almost unnecessary. This is the reason why I choose to switch upon a latest utility that seems handy in doing the same job perfectly. The utility is so called the 'Smart Finder' a.k.a 'Path Finder for Mac'.
Q) How 'Smart Finder' represent hard drives, folders and individual files:
This tool needs Mac OS X 10.5 (G4 or later) to run. Once launched, it asks for the drive selection (which is made default). The drive is selected from the left panel and further the folders of the drive are listed for selection. Choose a folder and proceed by clicking the 'Open' tab. This makes the folder open in a completely innovative 'Graphical View'. Below is the representation of the graphical view of the selected folder. The colorful boundaries around the core of the circle indicates the different sectors of associated files.
Further, the files selected with a right-mouse click expands 3 choices which are:
Reveal in Finder – opens up the containing folder.

Remove – eliminates the selected files as well as folders.

Open – opens up any contained files/folders.
This was all about the Graphical View of a folder, its sub-folders and files. Next comes the
'Column View': The Column View also produces satisfactory results with the help of its 'FLYOUT View', which expands to the the right side of the screen till the folders and files information are completely displayed.
'List View': This option will minimize the Graphical/Column View to the much compressed List View.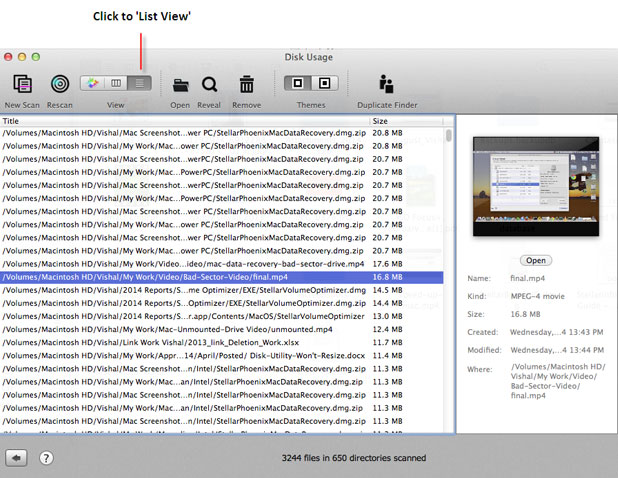 In all the view options the three operation discussed above can be performed using a right-click of the mouse. At the end of the day, you will find it handy to locate & delete large files from the Mac OS drive.
Avail
Free Trial: -
http://bit.ly/UQHeas